The current priority goals of the EuPA Education Committee (EC) are:
Coordination of European-wide workshops and courses to promote and enhance the quality of proteomics knowledge through the life sciences community, general public and governmental bodies.
Coordinate and promote European-wide scientific exchange programs for young researchers to enhance their scientific career and promote cultural exchange and acceptance throughout Europe.
For details on educational activities see http://www.proteomics-academy.eu/ 
EuPA School on Practical Proteomics
October 8-12, 2017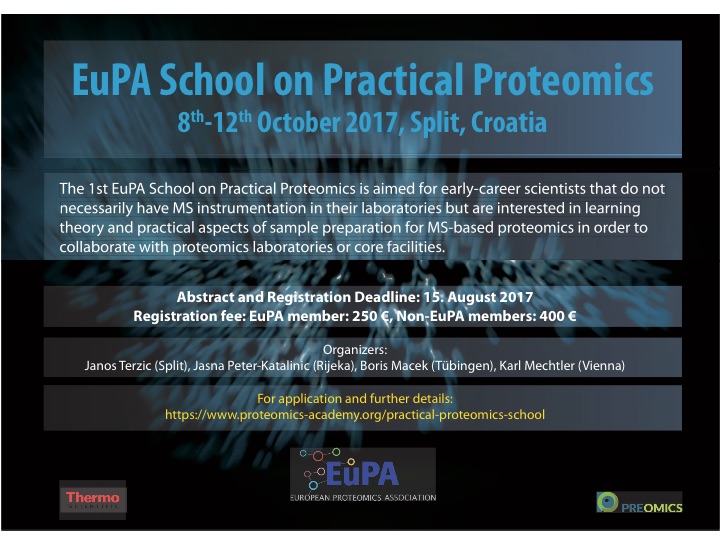 klick image for high resolution flyer
go here: http://www.proteomics-academy.org/practical-proteomics-school
Modern biology requires technology-driven approaches, such as proteomics, to gather data required for generation or validation of hypotheses. In pursuit of their projects, biologists, biochemists and medical doctors are often exposed to collaborations with proteomics laboratories or core facilities and need to master not only the theoretical background but also practical aspects of experimental design and sample preparation for mass spectrometry-based measurements. Likewise, after a successful completion of MS measurements, they are often confronted with the tedious biological interpretation of MS data.
The 1st EuPA School on Practical Proteomics is aimed for early-career scientists that do not necessarily have MS instrumentation in their laboratories but are interested in learning theory and practical aspects of sample preparation for MS-based proteomics in order to collaborate with proteomics laboratories or core facilities. The renowned faculty will give lectures on common strategies in MS-based proteomics and their applications in cutting-edge biological research. In dedicated tutorial sessions, the faculty will provide a direct input about possible strategies in participants' projects. The practical part of the School will address hands-on protocols for protein extraction, digestion, enrichment of modified peptides, stable isotope labelling, peptide separation, as well as data interpretation after a successful MS measurement.
The School will be open to 30 researchers from all areas of biomedical sciences. Advantage will be given to junior researchers (PhD fellows and postdocs) that are willing to present their projects in form of a short talk or a poster.